Let's Dish! Just Stuff It
October 19 @ 7:00 pm

 - 

9:00 pm
Instructions:

Each attendee to bring a homemade prepared (or ready to warm up) appetizer, salad, side, main, or dessert to share with the group.  In keeping with the theme, dishes should incorporate berries.  The dish could be an old favorite, or something new to try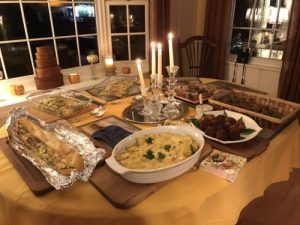 The Evening:
What fun we all had enjoying all those delicious dishes and engaging in lively conversation! I'm still stuffed!
A BIG thank you to Elizabeth for hosting our Let's Dish event! Without members like you we could not have events such as this!  And thanks to all of your for sticking with the theme and cooking up a storm.
Lynne Gassiraro
Recipes from the event are below. Click to open the recipe to download and print: 
Italian Stuffed Mushrooms   -  Recipe from Anne Rarich
Carrot Pineapple Coconut Cake  -  Recipe from Isabel Chesak