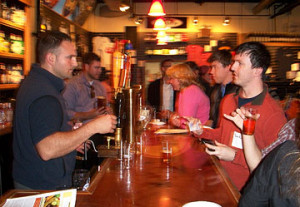 Culinary Guild Events
The Culinary Guild of New England hosts a wide variety of activities for you to enjoy. Our calendar of culinary events includes a mix of large and small occasions designed to connect cookbook authors, renowned chefs, and other influential members of the extended food community with our members and the general public.
We host cooking demonstrations, tasting events, Supper Clubs, "Salon Series" discussion groups, "Let's Dish" potluck dinners, informal "Kitchen Prep" programs, culinary weekend excursions, and the occasional gala event such as the 2012 six-course dinner at the esteemed James Beard House in New York City. We volunteer in Verrill Farm's annual Strawberry Festival and Farm to Fork Dinner.
Upcoming events are shown on the home page, and specific details for each event are available on the Events Calendar. If you're interested in learning more about our past events, please take a peak at the Past Event and Photo Gallery pages.
Let's Dish
Is there really anything better than trying new recipes and sharing food amongst friends?! Every other month, members gather at a fellow member's home to share a dinner full of new dishes (potluck style) and enjoy a discussion of the various recipes that inspired each member. Recent "Let's Dish" event themes include:
Butternut Squash,
December Cookie Swap,
Tea Party
Cinco de Mayo
Keep an eye on the your email inbox and the Events Calendar for details.
Salon Series
At last, here's a time and place to discuss the culinary world with fellow food lovers! In our members-only "Salon Series", we gather in a member's home to discuss culinary topics over light dinner and wine. Topics include everything food-related, from sustainability, to cookbooks organizing, to travel and more.  Our "Salon Series" includes such events as:
"Olive Oil Tasting & Hearthside Chat" (with Cristiano Bonino)
"To Paleo or Not to Paleo"(with Paleo dinner and discussion led by Pam Florence) and
"A Taste of the Azores" (including an elegant meal and discussion of Guida Ponte's & Jennifer Wolcott's guided trip to the Azores).
"Dinner & A Chef's Table Documentary Film on Chef Massimo Bottura" (with film viewing and Massimo inspired meal.)
Keep an eye on the your email inbox and the Events Calendar for details.
Kitchen Prep
Hands-on demos. Lectures. Classes. We're always hungry for more knowledge. This season's classes included:
Indian Cooking (with Pallavi Mehta)
Ancient Grains (with Maria Speck),
Sips, Sides & Salads (with Kathy Walthers),
Chocolate Making (with Seranade's owner/chocolate maker Nur Kilic),
Keep an eye on the your email inbox and the Events Calendar for details.
Supper Club
"Supper Club" is an opportunity for members to experience an array of (often new to the scene) restaurants in and around Boston. Held throughout the season, most dinners feature a multi-course tasting menu that is designed exclusively for Culinary Guild members. As in the past, the cost for each dinner will be inclusive of tax and gratuity. "Supper Club" events include visits to:
Juniper (Chef Dave Becker)
Gustazo (Chef Patricia Estorino)
Union Square Pub Crawl
Wine Dinner at Newbury College
Journeyman (Chefs Tse Wei Lim & Diana Kudajarova & Tru Lang)
Keep an eye on the your email inbox and the Events Calendar for details.
Excursions
Our fun, food packed culinary weekend excursions include:
Brooklyn NY
Vermont Culinary Weekend
Portland Maine
Martha's Vineyard
Day (and half day) excursions include:
HMart Tour with Chef Lilly Jan
Foraging for Shoots and Sprouts in Wayland with Rachel Goclawski
Turtle Creek Winery Tour
Farm Coast Bike Tour with Slow Foods
Keep an eye on the your email inbox and the Events Calendar for details.
EatUp!
Introducing "EatUp!" Is there a culinary related activity you're interested in attending? A new restaurant you're excited to try? Want to invite other Culinary Guild members to attend too? Here's your chance! Post the details, create an impromptu activity and get the conversation started.
Our first such event was:
Boston Public Market EatUp!
Initiated by members for members, "Eat Up!" events are more spontaneous than our other events. Here is how they work. By signing up for our member-only facebook page, you gain access to our private conversations about food and to suggestions for meeting up (hence "Eat Up!") with fellow members.