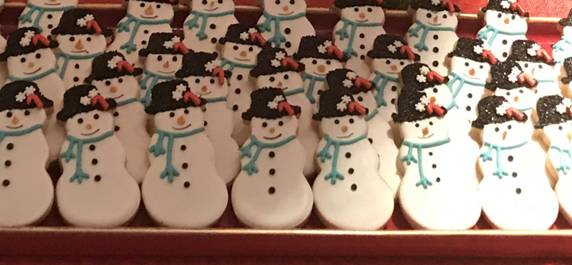 These absolutely adorable snowmen (courtesy of Maggie Peterson) came to play at the Guild's annual Holiday Cookie Swap, held in the spacious home of Anne and Tom Rarich, deep in the woods of Concord.
Attendees baked their little hearts out to create beautiful and scrumptious sweets to share; the full contingent is displayed below. For every three dozen cookies each member brought, he/she went home with a box of 36 more from the evening's mind-bending assortment. Lemon madeleines, snowballs, delicate French sables and more. Talk about a sugar high !
While munching on cookies, the party was made even more raucous by a spirited game of True or False, whose goal was to see who fibs the best. In short order (pardon the pun), we'll be adding the night's cookie recipes to our RECIPES page.
And, lest you think the Guild is all about flour and sugar, take a look at our EVENTS page for a brief lineup of the cool activities we have in store for January, February and beyond. Serious tea aficionados and craft beer advocates will want to stay tuned.
Thanks to all of you who've suggested interesting places to go, people to meet, things to eat and drink, and ways to learn more about the culinary world. That's what the Guild is all about.