Baby Greens with Roasted Peppers & Fresh Mozzarella
From the Kitchen of Lynne Gassiraro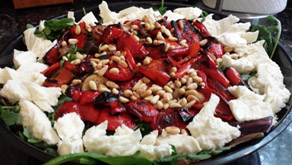 Salad:
½ container of spring greens
½ container of arugula
1 ball fresh mozzarella, torn or cut into pieces
3 red peppers
1 small red onion
2-3 Tb. toasted pine nuts
1-2 Tb. olive oil
Salt and pepper

Dressing:
½ c. Balsamic vinegar
3 Tb olive oil
1 Tb. honey
½ Tb Dijon mustard
Juice of one lemon
Salt and pepper
1 garlic clove (pressed)
1 Tb. finely minced shallot
Preheat oven to 500. Line a baking sheet with parchment.
Wash, deseed and cut peppers into large strips. Slice onion into circles. Place cut peppers and onions on the parchment-lined sheet and, using your hands, toss with 1-2 Tb. oil and salt and pepper until lightly coated. Roast 10-15 minutes. Remove onions if they are browning too fast. Let cool.
Put the greens into a large bowl. Display the mozzarella and roasted peppers & onions on top. Sprinkle with toasted pine nuts.
For the dressing: Combine all ingredients in blender or shaker bottle. Whiz or shake to combine. Adjust proportions to your liking. 

Cook's Notes:
To toast pine nuts put desired amount into dry pan. Toast over medium heat shaking or stirring constantly until lightly browned. Take care as they burn quickly. Cool before use.
The dressing is lower fat – if desired, increase olive oil to ¾ cup for creamier version. I just adjust proportions to taste – the above is only an estimate.
Dressing is enough for several batches of salad. Keeps in fridge for several weeks- just whiz or shake to combine.
« Back to Recipes Index